Meninx Solutions are on level 2 of Meninx´s services. They allow to the optimization, enriching, and simplification of your core business processes
Solution description | Semeion Enterprise Output Management
This solution is a classical output management solution that deals with the preparation of transactional data, batch composition of documents, post processing of spool files and their production, packaging for paper documents, and shipping. This solution is derived in several versions to adapt its functionalities to your specific needs. The versions of this solution are independent of each other. They will be adapted to your actual needs to ensure the best productivity and the best return on investment.
Functional diagram of the solution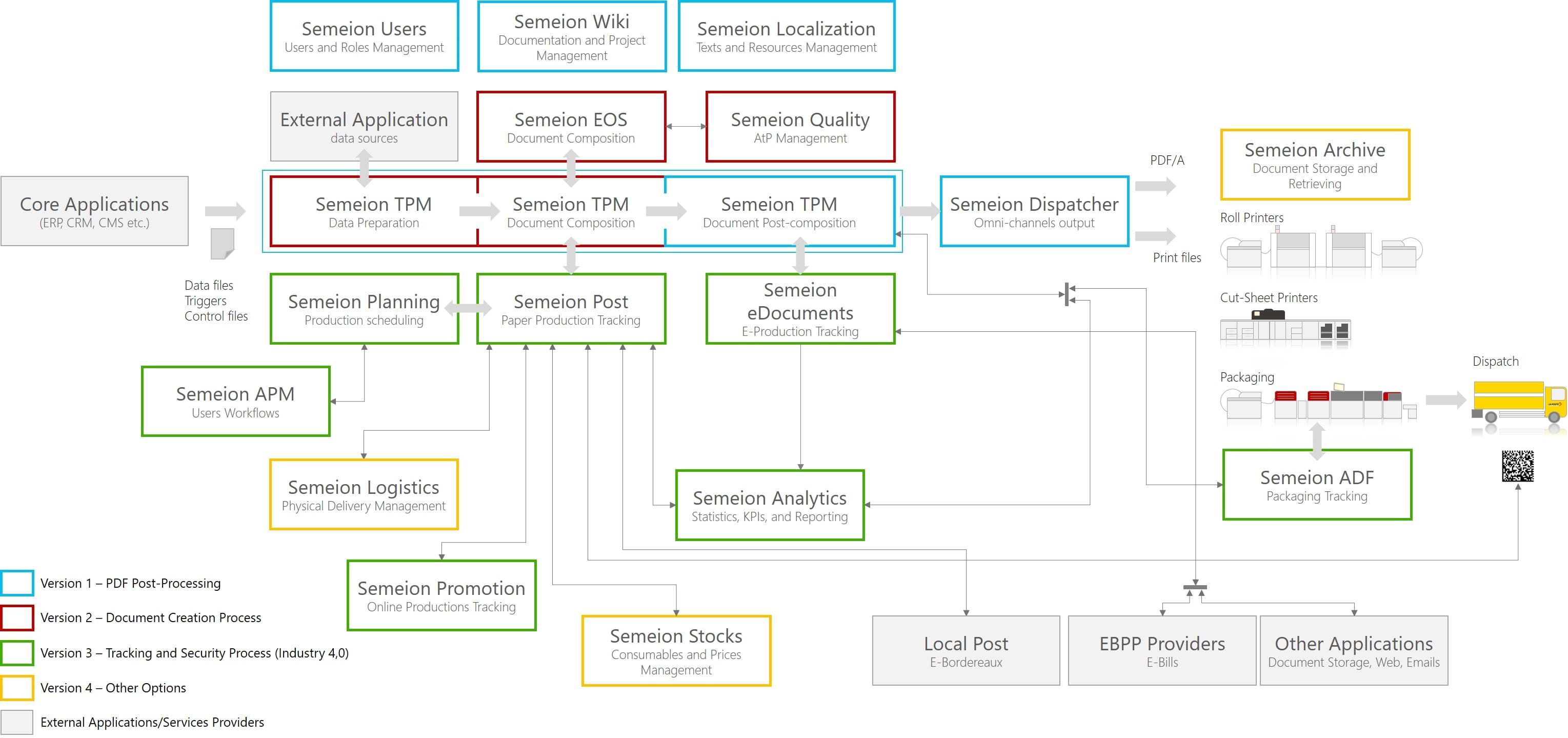 Version 1

: Postprocessing of PDF solution within a fully automated TPM workflow. This flow allows in particular, the merge of envelopes, the insertion of 2D, QR, or datamatrix codes, the numbering of pages, the insertion of graphical resources (images, backgrounds, etc.), the insertion of postage information, or the insertion of technical lines. This process uses Meninx ParsingStrings and TPM technologies.


Version 2

: Data preparation (all types) and dynamic composition with total document personalization.


Version 3

: Complete tracking of all paper or electronic productions with the implementation of the Industry 4.0 concept, complete integration of production devices to perfectly manage the quality checks and the production cycle.


Version 4

: Additional options for enriching the previous document production processes, such as on-line archiving of documents, management of stocks, or the delivery of non-packaged productions (boxes sent to customers with GPS tracking and acknowledgments).
Semeion modules used
Version 1
| # | Module name | Module description |
| --- | --- | --- |
| 1 | Semeion Technologies | All Semeion technologies are implemented as part of Semeion solutions. Please refer to the corresponding page for more information about our technologies. |
| 2 | Semeion Dispatcher | Semeion Dispatcher is the Semeion agent in charge of document distribution towards external systems. Semeion Dispatcher manages document output channels, either in paper or electronic form. |
| 3 | Semeion Localization | Semeion Localization allows you to manage, in a centralized manner, all the content and specific terms relating to your core business. Semeion Localization is also used by Meninx to manage Semeion module user interface cultures. Texts are translated in a controlled manner and are validated. Once the translations are accepted, they are available to all types of applications for qualified multilingual correspondence or communication. |
| 4 | Semeion Users | Semeion Users allows for the management of users and their roles. They can be managed either in the Semeion database or in connection with LDAP / Active Directory or any other person identification system. |
| 5 | Semeion Wiki | This module enables simple management of knowledge content around your business processes. Semeion Wiki offers a simple web interface to manage the information that is vital for the smooth running of your mail and business processes. |
Version 2 (+ Version 1)
| # | Module name | Module description |
| --- | --- | --- |
| 6 | Semeion EOS | Semeion EOS is the transactional composition tool of Ecrion used to create large quantities of complex documents, such as invoices, account statements, advice, cheques, etc. in a batch mode. |
| 7 | Semeion Quality | Semeion Quality enables an evaluation of the possible collateral effects in the event of migrations of your document production environments following corrections or changes to your processes. |
Version 3 (+ Versions 1, 2)
#
Module name
Module description
8
Semeion ADF
Semeion ADF (Automated Document Factory) is the Semeion solution for quality control management of printing processes, enveloping, and dispatching correspondence (all B2C document types) in paper format.
9
Semeion Analytics
Semeion Analytics has 3 main functions: To collect operational data, consolidate them, and to deliver reports, statistics, and knowledge related to the performance of the operation. The purpose of the "journal" function is to collect all types of information produced by applications, flows, and materials, in a generic way, structured or not, to provide the Reporting function with the essential material for the creation of knowledge, in an accurate and concise way. The non-semantic data of the "journal" function is reconciled by the Reconciliation function of Semeion Analytics to provide data that can be used by the Reporting function. Once the data is ready, the Reporting function provides all types of accurate and complete operational reports. The Reporting function quantifies and qualifies the quality control processes and the productivity of the company. Reports can be created using MS-SQL BI functions, external tools such as Telerik Reporting, QlikView, Crystal Report, or Semeion EOS.
10
Semeion eDocuments
This module is the Semeion module for monitoring and controlling the production of electronic documents. It mainly allows the verification that each document has been successfully delivered. It proposes a powerful monitoring dashboard, document search engine, and quality insurance processes.
11
Semeion Planning
Our customers, who are confronted, on a daily basis, with job planning problems, resource availability, and the constraints imposed by customers with regards to deadlines (Service Level Agreement), can now optimize their production thanks to Semeion Planning.
Semeion Planning allows for the management of all types of operational agenda according to their infrastructure and human resources. Unlike traditional applications, Semeion Planning does not just limit itself to reserving time slots, but calculates the optimal schedule, dynamically and automatically.
12
Semeion Post
Semeion Post is an application designed to keep track of all printing and enveloping jobs, as well as to automate the delivery process of mail to the local post office.
Semeion Post provides numerous dashboards and reports to simplify and guide the daily work of the operators of printing centers.
13
Semeion Promotion
Semeion Promotion will enable you to promote your business as well as your services via your intranet or on the Internet. Semeion Promotion enables simple content management.
Version 4 (+ Version 1, 2, 3)
#
Module name
Module description
14
Semeion Archive

Very often, archiving solutions only let you answer one type of request at a time:

Mass or transactional archiving ("Cold Archiving")
Management of eDossiers (with referencing between documents) in particular within the scope of customer, patient, employee, or client file management.
Electronic document management (DMS)

With Semeion Archive, you benefit from a single solution to all your data and document storage requirements.

15
Semeion Logistics
Semeion Logistics can be an extension of your ERP (e.g., SAP). Semeion Logistics enables you to optimize your supply chain or delivery from your stock, or even from point-to-point.
16
Semeion Stock
Semeion Stock is the management module for equipment ("physical" parts) and services ("logical" parts), which are vital for the successful performance of your processes.
Advantages and benefits
Complete automation of the production workflows by the integration of devices and the use of datamatrix codes for quality checks.
Tracking (workshop and online external customers), total security for the management of documents, envelopes (paper or electronic), and postal boxes and trolleys.
Reduce the operational costs by automating processes and eliminating production errors.
Support customer loyalty by integrating them into the production processes and delivering new services essential to operational security on the client side.
Why invest in this solution?
Semeion Enterprise Output Management provides many innovations that will enable your document production center to acquire new types of work and therefore customers. With this solution, you will professionalize your services and provide your customers with the information they really need.
Back to the Solutions page