Meninx Solutions are on level 2 of Meninx´s services. They allow to the optimization, enriching, and simplification of your core business processes
Solution description | Semeion Human Ressources
Semeion HR enables the automation of human resources management processes, such as recruitment and letter processes, but also data management relating to staff or the management team within the scope of self-service processes.
These workflows are simply adaptable to other recruitment processes, such as the recruitment of tutors or curators for state justice departments, the recruitment of external consultants, etc.
Functional diagram of the solution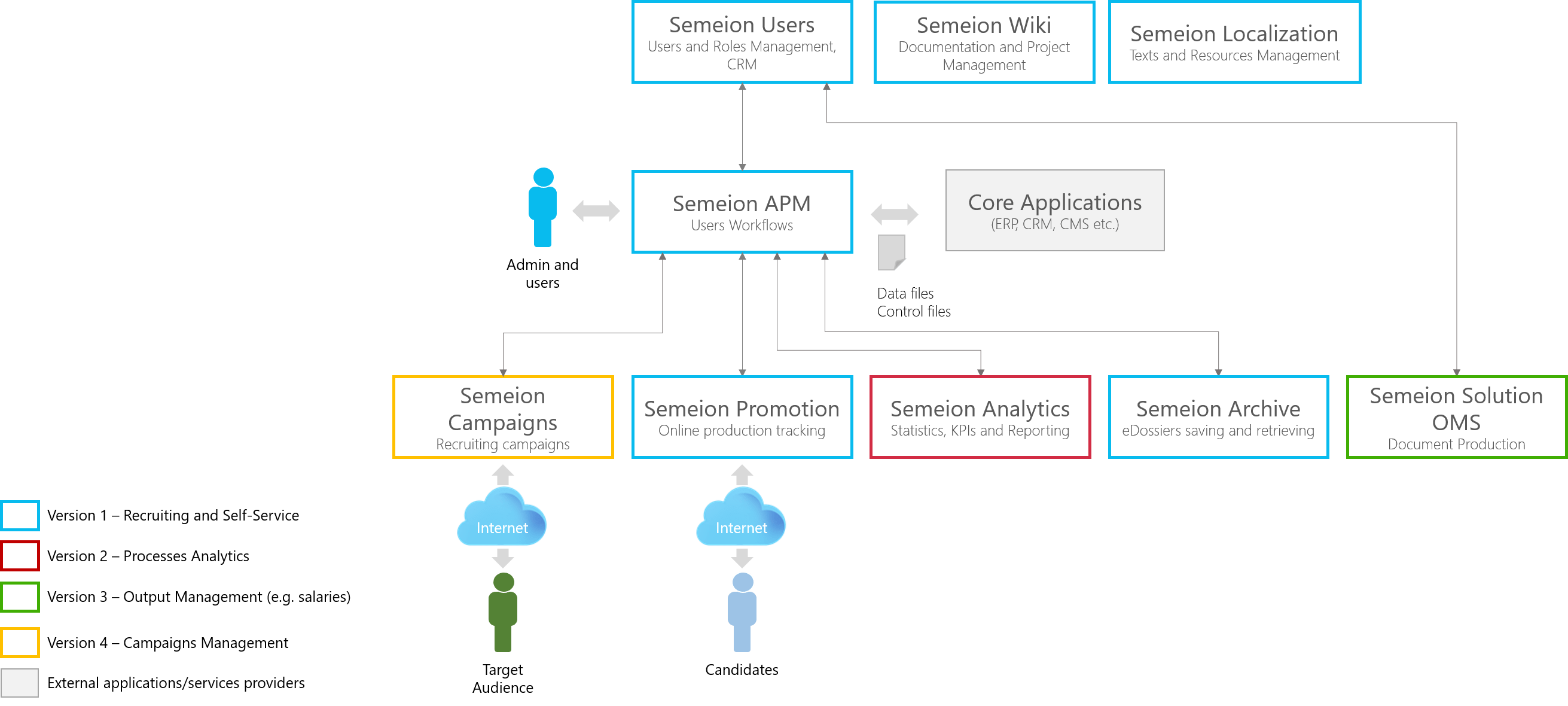 Version 1

: Standard human resources management workflows. Applies to all types of entities such as private companies, states (employees, curators, and tutors), hospitals, hotels, restaurants or SPAs, financial services, etc.


Version 2

: Process analysis with statistics and KPIs


Version 3

: Connection to the Semeion Output Management solution for the batch management of document creation and production processes such as salaries, internal correspondence, etc.


Version 4

: Management of online recruitment campaigns and micro websites.
Examples of processes covered by Semeion HR
Recruitment process
Online publication of job offers using Semeion Promotion (micro website)
Online registration of candidates on Semeion Promotion, secure downloading of their personal data (CV, certificates, diplomas, reference letters), and letter of motivation
Sorting of Curriculum Vitae and pre-selection of the most suitable candidates
Collaboration between the personnel department and the head of department for the selection of candidates
Organization of meetings with the candidates
Vote on candidates for ranking
Selection of the successful candidate for the position
Automatic and assisted creation of documents (e.g., confirmation letters, employment contracts)
Automatic creation of the staff member´s eDossier with management of access rights for the person concerned, his/her line managers, and the personnel department
Self-service processes for employees and managers
Absence requests with automatic entry and validation in your management system
Employee and management satisfaction surveys and polls, and identification of areas for improvement in the company
Process for the request of interviews or intermediate certificate
Staff leaving process (e.g., creation of letters, creation of checklists to ensure that the procedure runs smoothly, transfer of the eDossier to a temporary parallel archive, creation of final certificates)
And numerous other workflows
Semeion modules used
Version 1
#
Module name
Module description
1
Semeion Technologies
All Semeion technologies are implemented as part of Semeion solutions. Please refer to the corresponding page for more information about our technologies.
2
Semeion Archive

Very often, archiving solutions only let you answer one type of request at a time:

Mass or transactional archiving ("Cold Archiving")
Management of eDossiers (with referencing between documents) in particular within the scope of customer, patient, employee, or client file management.
Electronic document management (DMS)

With Semeion Archive, you benefit from a single solution to all your data and document storage requirements.

3
Semeion Localization
Semeion Localization allows you to manage, in a centralized manner, all the content and specific terms relating to your core business. Semeion Localization is also used by Meninx to manage Semeion module user interface cultures. Texts are translated in a controlled manner and are validated. Once the translations are accepted, they are available to all types of applications for qualified multilingual correspondence or communication.
4
Semeion Promotion
Semeion Promotion will enable you to promote your business as well as your services via your intranet or on the Internet. Semeion Promotion enables simple content management.
5
Semeion Users
Semeion Users allows for the management of users and their roles. They can be managed either in the Semeion database or in connection with LDAP / Active Directory or any other person identification system.
6
Semeion Wiki
This module enables simple management of knowledge content around your business processes. Semeion Wiki offers a simple web interface to manage the information that is vital for the smooth running of your mail and business processes.
Version 2 (+ Version 1)
| # | Module name | Module description |
| --- | --- | --- |
| 7 | Semeion Analytics | Semeion Analytics has 3 main functions: To collect operational data, consolidate them, and to deliver reports, statistics, and knowledge related to the performance of the operation. The purpose of the "journal" function is to collect all types of information produced by applications, flows, and materials, in a generic way, structured or not, to provide the Reporting function with the essential material for the creation of knowledge, in an accurate and concise way. The non-semantic data of the "journal" function is reconciled by the Reconciliation function of Semeion Analytics to provide data that can be used by the Reporting function. Once the data is ready, the Reporting function provides all types of accurate and complete operational reports. The Reporting function quantifies and qualifies the quality control processes and the productivity of the company. Reports can be created using MS-SQL BI functions, external tools such as Telerik Reporting, QlikView, Crystal Report, or Semeion EOS. |
Version 3 (+ Versions 1, 2)
| # | Module name | Module description |
| --- | --- | --- |
| 8 | Semeion Solution Output Management | This solution is a classical output management solution that deals with the preparation of transactional data, batch composition of documents, post processing of spool files and their production, packaging for paper documents, and shipping. This solution is derived in several versions to adapt its functionalities to your specific needs. The versions of this solution are independent of each other. They will be adapted to your actual needs to ensure the best productivity and the best return on investment. |
Version 4 (+ Version 1, 2, 3)
| # | Module name | Module description |
| --- | --- | --- |
| 9 | Semeion Campaigns | The management of marketing campaigns is complex. To limit oneself to paper mailing is often insufficient. For this reason, Semeion Campaigns allows you to schedule your campaigns, to manage the exit channels (paper or electronic) as well as your addresses segments to better personalize the content of your correspondence, and to get a better return rate. |
Advantages and benefits
Implementation of a common platform for staff, managers, and the personnel department for the organization and rationalization of human resources management processes
Radical simplification of communication channels between members of staff
Major savings in time and money thanks to the automation of processes, their security and their compliance with the law
Assisted creation and validation of documents (e.g., letters, certificates, employment contracts) within the framework of controlled and planned workflows
Why invest in this solution?
Staff management within an organization is, without doubt, the most difficult aspect. Over the years, having a central solution for the management of processes and documents at one´s disposal has become a constant challenge. Employee motivation, through the respect shown to them by their superiors and the simplification of their administrative tasks, is an essential factor in a company´s competitiveness. On this basis, Semeion HR endeavors to provide these services in keeping with your business culture since, in this specific case, workflow customization is a key factor for success.
Back to the Solutions page