Meninx Solutions are on level 2 of Meninx´s services. They allow to the optimization, enriching, and simplification of your core business processes
Solution description | Semeion Housekeeping
Semeion Housekeeping enables the automation of the cleaning processes for the hospitality properties. This begins with the dispatch of work duties to the available employees, followed by the cleaning process itself according to the given guidelines, cleaning quality assurance, processing of the room, and if necessary, the forwarding of the repair orders to the responsible technical departments, as well as the warehouse management of the machines and materials, etc. required for this area.
This solution, which was specially developed for the hotel industry, hospitals, senior living residences, etc., gives you information at any time about who did or has to do, and what, when, where, and how the job was / needs to be done. The bidirectional interface to your company PMS is possible and strongly recommended.
Functional diagram of the solution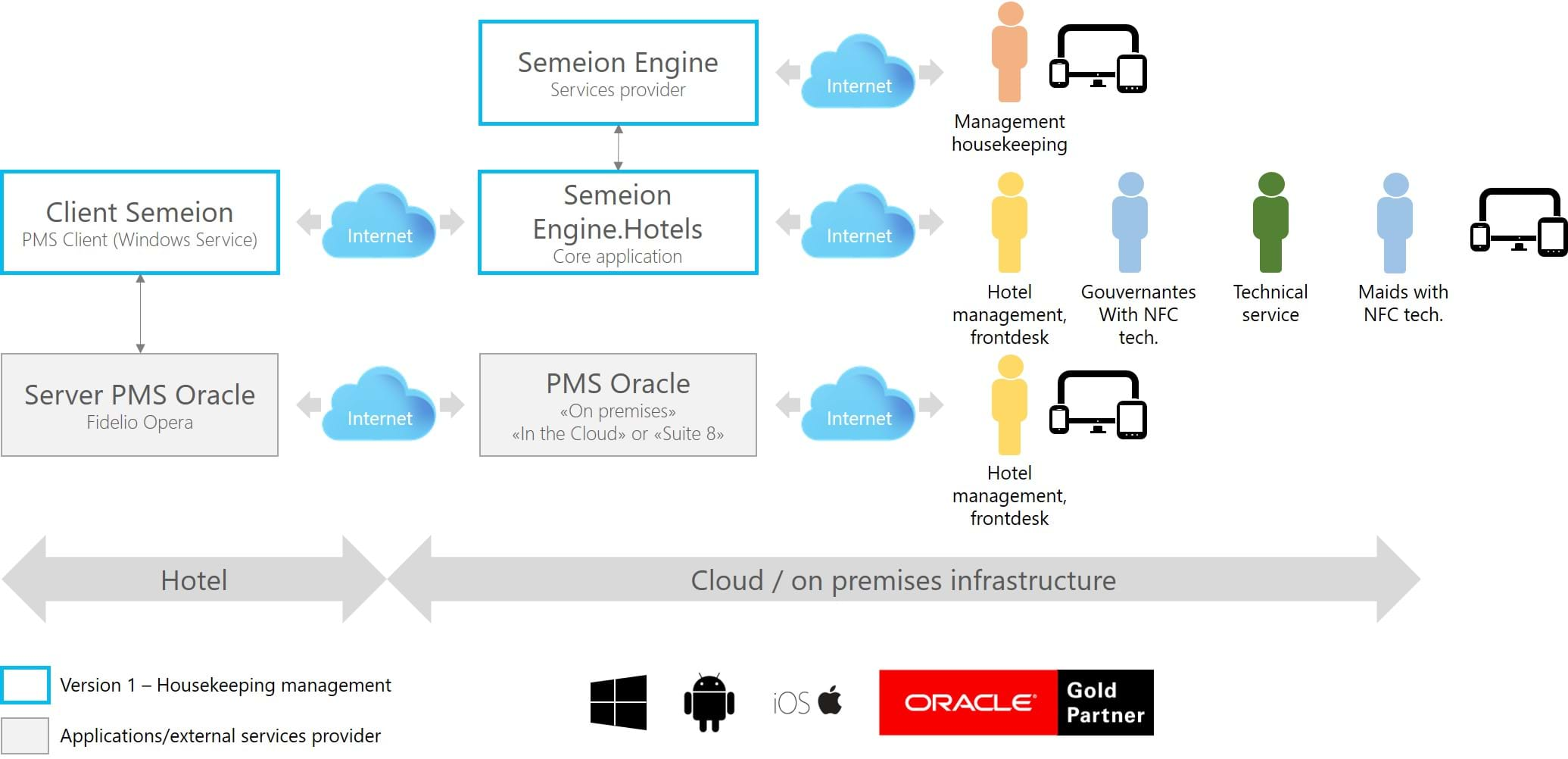 Version 1

: The solution consists of Semeion Engine in the cloud, a specific module for hotels to manage teams, services, and reporting on site at the hotel and also an interface module to the hotel´s PMS (e.g., Fidelio Opera)
Examples of processes covered by Semeion Housekeeping
Work, resp. employees dispatch
Deposited attendance plans of all employees for this area
Suggestion of suitable employees for daily tasks by the system according to predefined guidelines
Allocation of the units to be cleaned per employee / work shift
Automatic and supportive creation of documents for operational cleaning staff (e.g., individual work orders including special or generally binding work instructions for the day, shift, or unit to be cleaned), unless you are working directly with the mobile application for cleaning staff
Communication and management tools between departments and managers
Mirrored online status (via two-way interface with the company´s PMS), of all objects falling within this area of responsibility
Access authorization (via the cloud) for the managers of the hospitality establishment, the external service provider, or the property management allows to immediately view the status of the work for the respective property
Immediate digital transmission of work instructions for one or more system users or a work order change when the room status changes (e.g., departure to staying room; Do Not Disturb status, etc.), especially with the use of the mobile application by the cleaning staff
Thanks to the mobile application, telephone communication via WLAN is also possible.
Control and quality management
Online control and quality management checklists preconfigured according to the respective unit (e.g., type, area, location, number, minimum standard, articles, quantities, etc.)
Predefined defects and technical defects per area of the unit with defined persons responsible for correction (e.g., cleaning, technical, sanitary, carpenter, painter, etc.) with automatic order triggering (ticketing), including the possibility of photographing a status or defect
Coordination and identification of improvement potential in housekeeping or the maintenance of the units, in particular for training purposes, and as a basis for drawing up maintenance and investment plans
Automatic and supportive creation of reports, e.g., quality check lists, quality statistics, defect reports including photos, etc., per unit, area, person, department, as well as per time span (daily, monthly, yearly, accrued, etc.)
Possibility to use (scan) QR-Code / Barcodes / Datamatrix
Possibility to use RFID/NFС technologies with the mobile application
Inventory of consumables for guest rooms, work equipment, cleaning products, uniforms, etc., in stock or in circulation
The mobile application enables to manage time, as well as safety-relevant documentation according to areas
Preview
Semeion modules used
Version 1
Advantages and benefits
Complete digitization of maintenance management workflows, even if reports can be printed on request. In principle, all employees can work with smartphones and tablets.
Process-oriented working platform with interfaces to existing PMS systems in the hospitality sector for the housekeeping area, for both in-house and external cleaning by a service provider, and cooperation with the technical department and reception desk
Ideal instrument for the management of the teams and for the company´s human resources department´s control
Drastic simplification of communication channels between departments and employees
Significant time and cost savings through process automation and safety
Solution for the quality management process
Control and documentation of compliance with legal guidelines
Ensuring traceability of processes (who, what, when, where, how, etc.) and of accounting with external service providers
Transparent data, statistics, and reports for all recipients
Possibility of using RFID-NFC transponder / QR-Code / Barcodes / Datamatrix for the hotel relevant activities
Developed with the help of hoteliers and service providers for the hospitality sector
Ongoing support for staff training through rapid detection of recurrent errors, improvement of services, and thus, customer satisfaction
This ERP solution can be extended at any time on request
Why invest in this solution?
Housekeeping processes in the hotel and restaurant sectors are of key importance and oblige managers to face major challenges in various areas. Tasks are often performed by external service providers. In particular, it´s important for the establishment to be able to rely on a solution that promotes communication with all departments and employees concerned within the service; and that guarantees exceptional quality of execution, to increase customer satisfaction and efficiency.
In addition, total transparency in the work process shall be guaranteed at any time.
Back to the Solutions page
HouseKeepingVisitSpecificWebsite